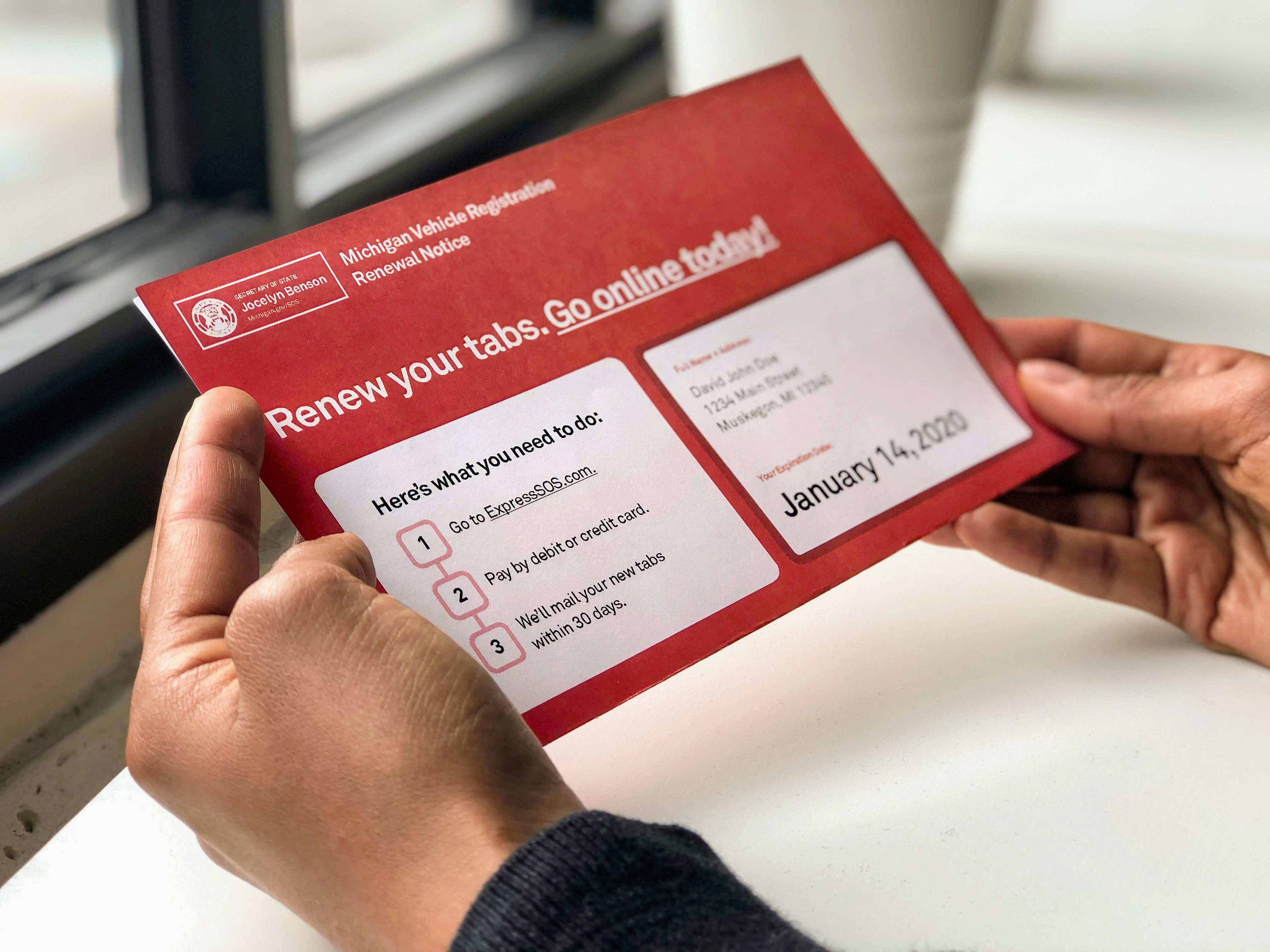 DMV Mailings
Designing renewal mailings for efficiency and clarity
background
More than 10 million Michigan residents renew their licenses, ID cards, and vehicle registrations each year
context
The Michigan department of state is the front door to government for most residents
Transactions are completed by staff in more than 100 branch offices. To communicate with customers, the department prints, packages, and mails over 60 million forms and envelopes annually.
the challenge
Resolving stress, confusion, and overwhelm for customers

The legacy mailings gave unclear instructions and included up to 16 informational inserts covering an array of topics, ranging from Michigan state parks to organ donorship. Many people mistook the envelope for junk mail.
Ineffective mailings led to longer wait times at branch offices, often for tasks that could have been completed online or at self-service kiosks. They also added frustration to customer-staff interactions. Plus, production strained the State: multiple vendors were involved in the 63-step process to print and distribute the mailings.

We set out to design a faster, simpler, and more customer-centered renewal experience for residents and staff
research
Understanding the entire renewal process through the people who know it best
the research process
The team worked closely with customers and staff across Michigan to observe every step of the renewal process
We identified the highest priority needs through more than 150 hours of in-depth interviews and a survey of 184 staff across the state.

Customer needs
Michigan residents often dread the annual renewal process
Generic instructions and a lack of clear directions mean customers frequently make errors or fail to submit their renewal payments on time. Customers end up visiting the branch unprepared, even if they are eligible to complete their transaction online. To prevent overdue renewals, the process needs to be communicated in simple steps so that customers can complete transactions with accuracy and confidence.

I remember coming here as a kid. I didn't want to be here then, and I don't want to be here now. But it's just something you have to do.
— Customer, Michigan Department of State
Staff needs
Branch staff are stewards of the customer experience

Branch staff are on the front lines, providing rapid and continuous customer service. They need renewal mailings to carry more of the customer relationship and make a good first impression. The mailings need to reduce the burden of 1:1 communication through clear messaging and answers to common questions. And the mailer-creation process needs to be more efficient to better use the production team's time and resources.

Customers get upset at us all the time. They think we're the law, but we're just the messengers.
— Branch staff, Michigan Department of State
design
Prioritizing action and personalized guidance to improve the effectiveness of renewal forms
the redesign
The team focused on eight different notices. They shared design elements that caused inefficient case processing and failed renewals
The renewal notices cover everything from vehicles and watercrafts to driver's licenses and state ID cards. The redesign also encompassed 16 informational inserts that market additional services and requirements to customers.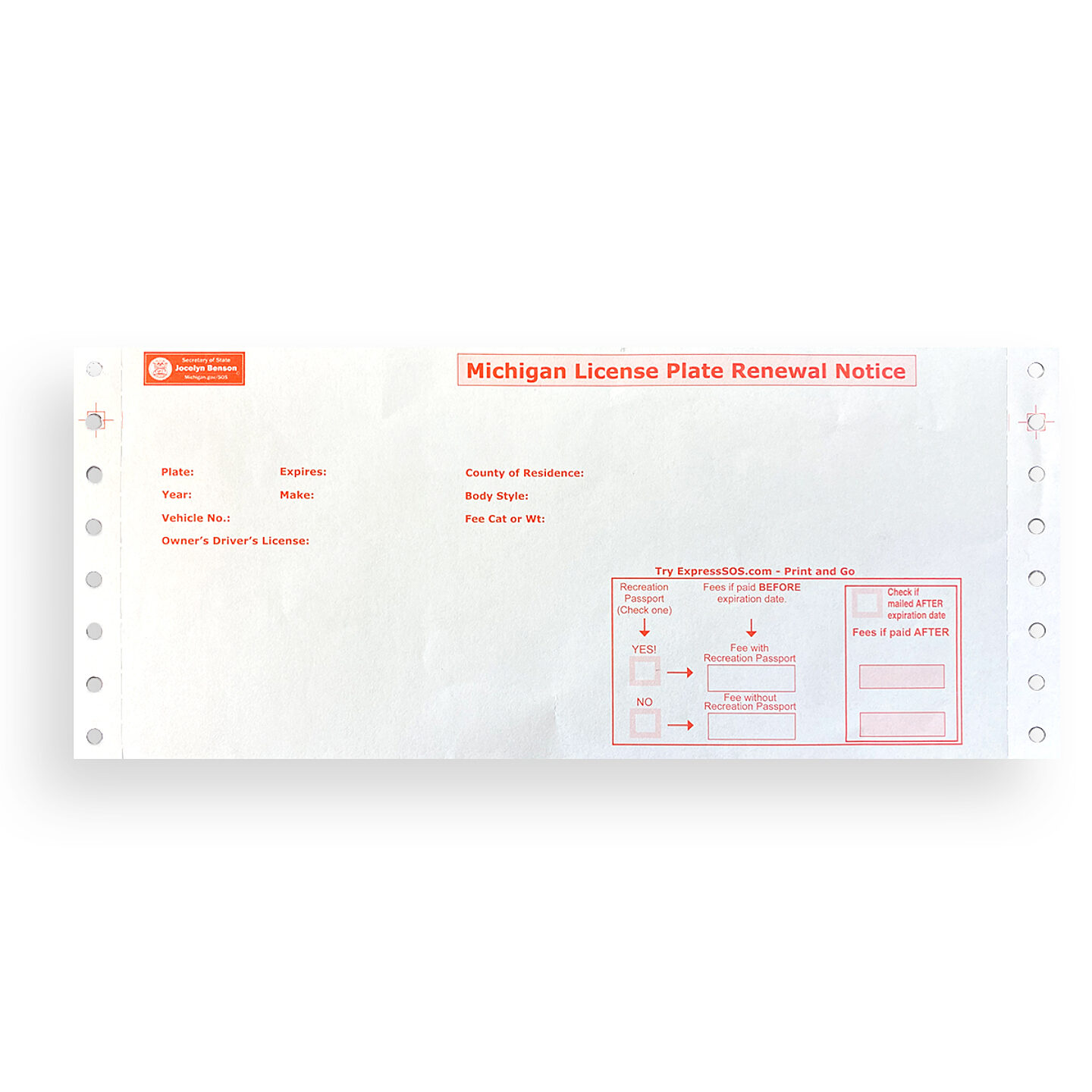 vehicle tabs

+

Vehicle owners must fill out the Vehicle Renewal Notice annually to keep their registration current. It accounts for 82% of MDOS renewal forms.

driver's licenses

+

Customers must fill out the Driver Renewal Notice every four years to keep their driver's licenses current.

identification cards

+

Customers who carry an ID card must fill out the Identification Card Renewal Notice every four years.

watercraft

+

Boat owners must fill out the Watercraft Renewal Notice every three years to keep their registration current.

snowmobiles

+

Snowmobile owners must fill out the Snowmobile Renewal Notice every three years to keep their registration current.

manufacturer and transporter plates

+

Customers with historical, manufacturer, and transporter plates must fill out the Michigan License Plate Renewal every three years.

voter registration

+

Customers fill out the Michigan Change of Address/Voter Registration Notice to update their address and register to vote.

license plates

+

Customers can fill out a form to order a new license plate by mail.
testing 25 different prototypes to best meet user needs
Civilla designed new versions of the renewal mailings and tested them in three MDOS branch offices. The team used mixed-methods research to guide the redesign, including one-on-one interviews, co-design sessions, observations, surveys, and quantitative data collection. We also worked with a range of stakeholders to streamline the production process for developing, testing, printing, pre-filling, packing, and distributing the new mailings.

Civilla designed a modern family of forms that meet the specific needs of each type of customer
1. Urgent
Bold design and small nudges throughout help customers understand the urgency of the form and differentiate it from other mail they receive.
2. Personalized
Personalized guidance provides answers to common questions to give customers the confidence they need to use self-service options.
3. Action Oriented
Focusing the form on a single call-to-action builds momentum. Directive language and clear steps lower the barriers to customers completing their renewal on time.

The color-coded family of single-page mailings uses bold colors to represent each renewal service

the primary notice provides a single call-to-action, with clear steps about what customers need to do

A detachable slip allows customers to renew by mail if they choose

Renewal options presented by time show the most efficient option available

A dedicated space for address changes encourages customers to write clearly in a place that can be processed by staff

Reminding customers to bring commonly missed documents ensures they won't forget

Answering common questions helps reduce unnecessary visits to the branch

A new, oversized envelope helps mail stand out from the pile and encourages customers to complete their renewals on time
I'm very impressed. This is big, bold, and pulls out the most important information.
— Branch staff, Michigan Department of State
impact
The redesigned mailings have had a significant impact on the customer experience
the impact
Overall, the renewal mailings now contain 88% less content, delivering information with clarity
Now that each renewal is just a single sheet of paper, the state will save an estimated 32 million pieces of paper annually. The mailings also provide clear guidance about how to renew online, and information about scheduling branch visits. Equipping customers with different renewal options helps decrease foot traffic, leading to shorter wait times and less stretched—and stressed—branch staff.
This is telling me exactly what I need to do. I'll go online and follow these three easy steps.
— Customer, Michigan Department of State
Implementation
Based on the findings from this project, MDOS implemented new renewal mailings statewide
scaling statewide
The new mailings have created significant improvements in service delivery across Michigan
The emphasis on remote renewals became a key component during the COVID-19 pandemic, increasing online transactions and ensuring customers could complete their business without unnecessary visits to an office.
This is everything I was hoping for. It's a structural investment that will out last our terms in office.
— Mike Brady, Chief Legal Officer, Michigan Department of State