stories
The Road to Rollout
Designing the path from idea to implementation at scale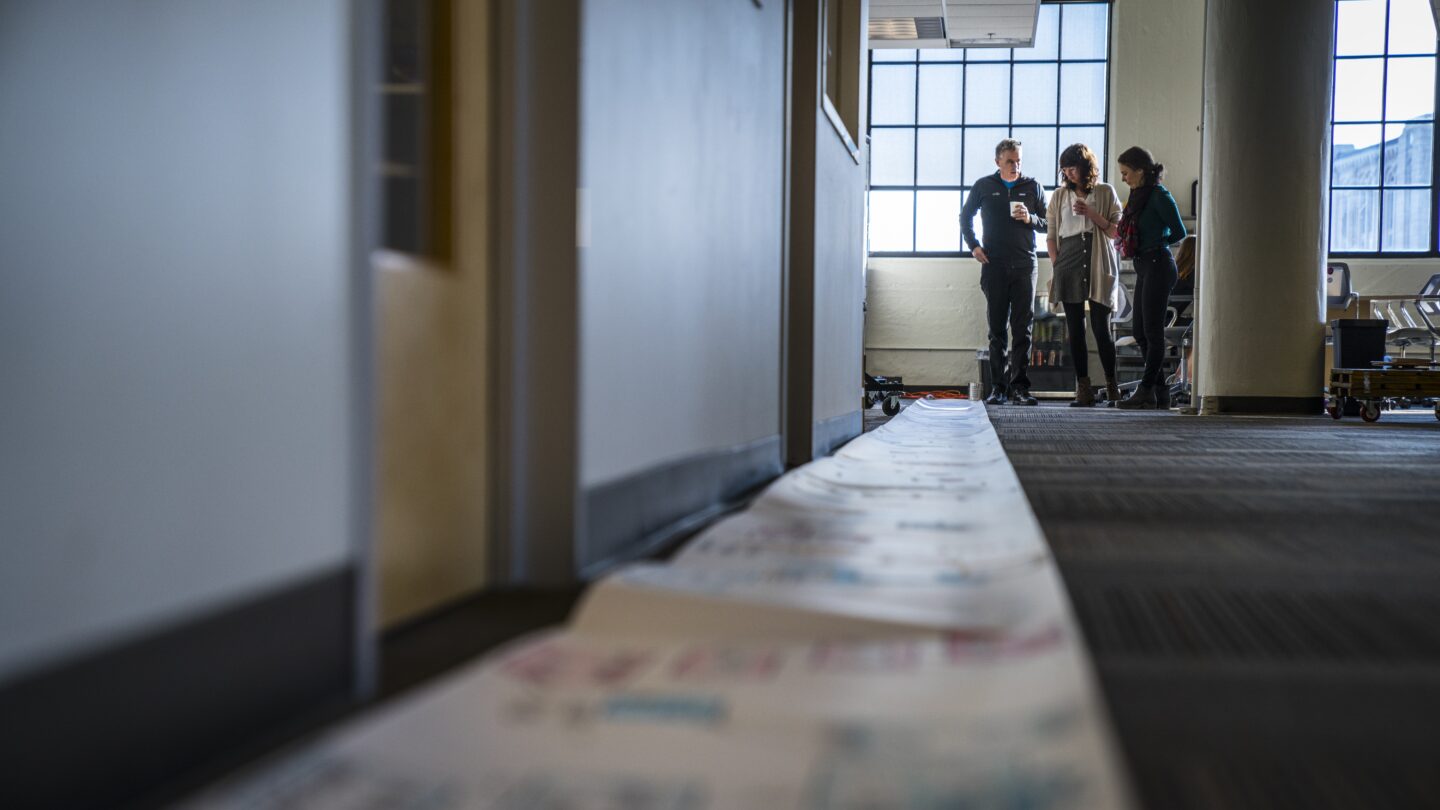 In January 2018, without much fanfare, over 150,000 freshly minted paper applications arrived at Michigan Department of Health and Human Services offices across the state.
Their arrival marked a major milestone in the two-year labor of love shared by our team at Civilla and MDHHS: a human-centered redesign of the state's application for public benefits, used by millions of residents each year, was officially live.
The previous application – the longest in America – contained over 40 pages, with dated graphic design and jumbled content. The new application – now one of the shortest – is 80% shorter, with a clean aesthetic, updated typography, and bright pops of color.
But this is not a simple story about how a long, ugly form became short, beautiful one. It is a story about how Civilla and MDHHS – two infinitely dissimilar organizations – banded together to reimagine a dated and cumbersome experience to work better for everyone.
It's about how an experiment in what ought to be became what is. And how the road to enduring change stretches on ahead.
making the case for change
When we took on the project in 2016, we knew the 40-page application was causing hardship for both residents and caseworkers across the state of Michigan. We worked to imagine a new way forward.
We spent hundreds of hours at kitchen tables, in living rooms, and in State offices to understand the current benefits experience and what residents and caseworkers hoped it could look like instead. Shaped by their stories, we built an immersive exhibit to illustrate the negative impact the current system had on its users and a prototype of what a new application might look like.
These outputs helped us make the case for change to MDHHS leaders and, after many months of navigating funding and procurement, the project was officially a go.
Over the next year, we worked to align the application with policy requirements, conducted extensive testing in the field, and made continual user-driven improvements. After compelling pilot results, state leaders gave the green light to take the new application statewide.
Our work was far from over, though. Now, we needed to find a way to communicate the project to key stakeholders, train thousands of MDHHS staff members, and ensure the new application was ready to print. Each task would be essential to a smooth statewide rollout.

engaging stakeholders across the state
Due to the interconnected nature of state government, our work would impact thousands of individuals beyond residents and caseworkers.
Working alongside MDHHS, we developed proactive strategies to identify all of the stakeholders who we needed to bring into the fold. Within the state government, this included field operations, legal teams, policy groups, migrant affairs, mail management, the Office of Child Support, the Inspector General, the Medical Services Administration, and the Michigan Department of Education. Across the state, this included networks of community partners, advocacy groups, and union leaders.
Our team worked to build relationships through one-on-one meetings and tours of the immersive exhibit in our Detroit studio. To better reach stakeholders in Lansing, we created a duplicate exhibit within walking distance of the state Capitol building.
By November 2018, hundreds of stakeholders had met with the team or walked through the immersive exhibit. Support for the project grew, and news of the redesign continued to spread through peer-to-peer networks.

"I have been involved with many initiatives within the state of Michigan over the years. i haven't ever experienced the way this initiative is being communicated. you didn't just tell us — you involved us."
– MDHHS County Director
We also established direct lines of communication with a core group of project stakeholders within MDHHS: the steering committee, the operational team, and various work groups. SMS-messaging became an important tool that enabled a regular rhythm of light updates. Our team made frequent trips to Lansing for in-person meetings, which deepened trust and kept the work on track.
This method of clear, honest, and consistent communication left an impact on MDHHS leaders.
Creating a peer-to-peer training program
The redesigned application had far-reaching implications for process and procedure within MDHHS field offices. This required 5,000 staff across the state's 105 locations to be trained on the new application – in just two months, with limited resources.
We knew that in-person, peer-to-peer training would be the most effective and reflective of the field-driven nature of the project. Working in partnership with MDHHS's Office of Workforce Development and Training (OWDT), we created a series of training sessions with interactive tools and short videos. Our teammate Sam co-starred in the videos alongside OWDT's Pam, which showcased a united front — and made for a catchy tagline. ("Hey, folks! We're Pam and Sam!")
We knew we couldn't train everyone in the state all at once. To roll out the training more effectively, we scaled with a peer to peer approach. We trained a small group of twenty-five frontline workers first. From there, those 25 workers were equipped to train 200 local staff. Those local staff members then learned to facilitate in-person sessions using the prepared lessons as a guiding framework. The framework ensured consistent messaging, but left enough flexibility for trainers to include their own personality and voice.

"staff are usually not receptive to change but this was different. we had people in the office that weren't open minded at the beginning. by the end, they were fully on board and believed this was good thing"
– MDHHS Caseworker
In two short months, we were able to engage the entire workforce of 5,000. The experience was hailed the State's "best training in over 30 years" by senior leadership, and has become the new gold-standard within the agency.
Hitting print and going live
As training and communication strategies played out across the state, our team poured over every detail of the application itself. We gained federal approvals, met ADA requirements, and advocated for well-translated Spanish and Arabic versions. We proofread the application hundreds of times, backwards and forwards.
Then, in late December, after some last-minute policy tweaks and an eleventh-hour design update due to printing constraints, the new application was sent to the printers.
It went live in every office across the state on January 22, 2018. We braced ourselves for a firestorm of reaction and troubleshooting, but the new application seemed to land smoothly.
The only messages we received from the field were photos of caseworkers showing off the origami hats, birds, and paper blouses they'd fashioned from the leftover stacks of the retired 40-page application.

Looking ahead
Since then, we've continued working alongside MDHHS to improve the application's digital counterpart and the complicated renewal process that follows every approval. We're also partnering with other states to explore how these solutions can deliver faster, more effective, and less expensive social services across the country.
This article was first published in the Civilla Chronicle and authored by Alissa Kline. To become a subscriber, sign up below.