Human-centered design
a process for creating solutions that put people first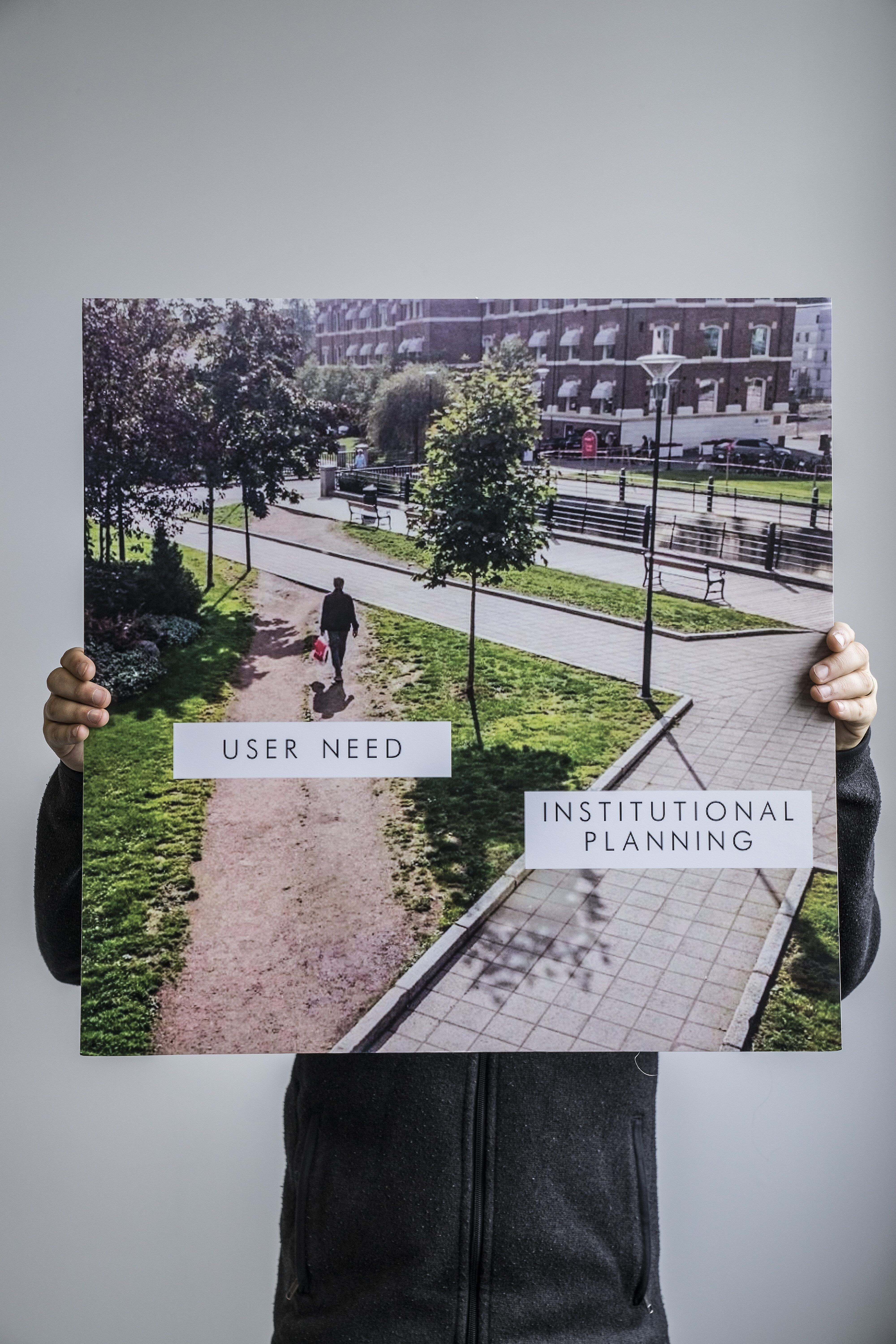 At Civilla, we often use this image of "the person on the path" to describe what human-centered design is.

When we look at the large brick path, it causes us to reflect on many solutions that have been designed to address pressing institutional challenges — the education, health care, and transit systems to name a few. Yet too often the organization, the program, or the money became the core focus. Very rarely did institutions put the person they were trying to serve squarely in the center of their decision-making process. In almost every case, the brick path solution didn't deliver the desired results, and often the work was difficult to scale or sustain.
Human-centered design is an alternative approach to problem solving – which focuses on building a deep understanding of people's lived experiences and creating solutions that best meet their needs.

Civilla specializes in tailoring human-centered design to meet the needs of institutions.

put humans first
Conventional approaches to problem solving have long prioritized the assumptions and needs of institutions. While human-centered design doesn't ignore these things, it proposes that institutions should design solutions to meet the needs of the people they serve. People's needs can often come into conflict with policy, business process, and technology requirements. Civilla is skilled at navigating these tensions by keeping the voices of end users at the center of the process while working closely with institutional partners to build alignment across stakeholder groups.
stay rooted in community
Without building trust, human-centered design would fail every time. At Civilla, we are committed to building meaningful relationships with the individuals and communities we work with. We do this by making ourselves accountable to the people who offer their time and expertise, and engaging them for the full life cycle of a project so that they can see the impact of their contributions.
include stakeholder voices
Institutions have a uniquely complex stakeholder landscape. Projects often involve legal teams, policy analysts, legislators, unions, advocates, and thousands of state employees. We use our skills as facilitators to make sure that all relevant stakeholders feel included in the process. Building trust in this way keeps the needs of end users at the center of the process and helps everyone feel ownership over the end result.

question what you know
Public servants often have decades of experience and expertise that they're bringing to the table. Human-centered design challenges us to question what we know, and look to end users as the true experts in understanding what they need. We work alongside our partners to test common assumptions and build a human-centered foundation for the systems, products, and services that we create.

find key dominoes
In institutions, there's no shortage of opportunities for improvement. The question is where to focus limited energy and resources to generate the largest impact. Civilla specializes in developing a cohesive understanding of the user experience and working with our partners to identify the highest value opportunities for change.

commit to implementation
Human-centered design is sometimes reduced to creative activities in early phases of a project. But a deeper commitment to implementation is necessary. Successful human-centered design in public institutions requires us to manage change across complex organizations – planning for ongoing evaluations, developing internal capacity, and guiding culture change at scale. Our team works alongside our partners to support implementation and ensure solutions remain human-centered all the way through.